RT: 'World is still livable due to BRICS counterbalancing West'
July 14, 2014
2012: What's the 'real' truth?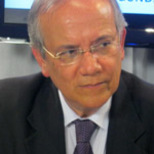 Adrian Salbuchi is a political analyst, author, speaker and radio/TV commentator in Argentina.
Published time: July 14, 2014 11:25

The West is now starting to move to its final decay, with the Russia-China alliance becoming stronger, offering Latin America and other regions a multipolar model of the world, author and international consultant Adrian Salbuchi told RT.
RT: The BRICS nations are gathering for a sixth time, a lot of deals are coming out of this. How important are these agreements?
Adrian Salbuchi: They are indeed very important because not only should we look at them from the point of view of economic…
View original post 581 more words